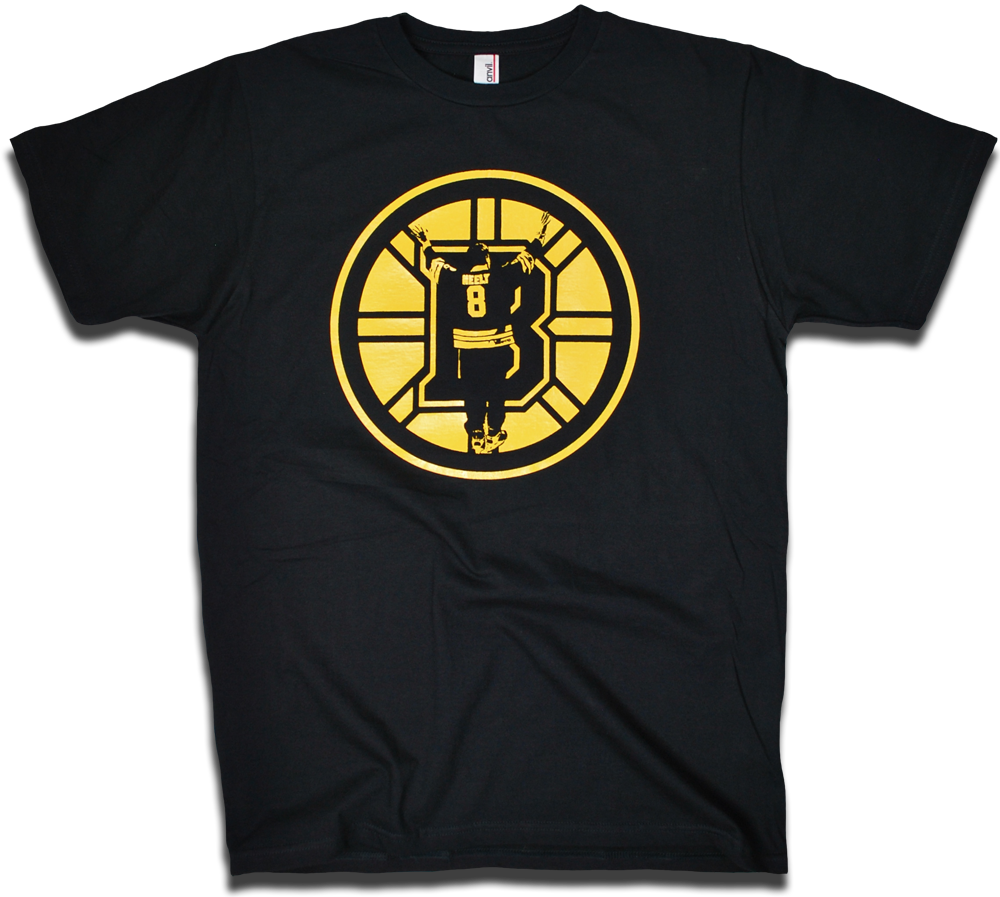 ---
I offer this design to the Hockey Gods, to right the wrongs of one Ulf Samuelsson. Growing up, there was nothing more awe-inspiring than watching Mario begin to bring glory and respect to the Pittsburgh area in the early '90's…especially when you are busy having your sole trampled by Bubby Brister and Barry Bonds. The Pens were a bright spot in a dark time in Pittsburgh Sports. However, we would soon have a blemish on that magnificent beginning to hockey in the '90's, placed there by one defensive goon, Ulf Samuelsson.
Cam Neely was any hockey fan's ultimate player. Classy, tough, talented, and aggressive. Neely's success stemmed largely from his hard, accurate shot, quick release, and his willingness to engage in the more physical aspects of the game. At 6 ft 1 in and 215 lb, Neely was as devastating with his body checks and fists, as he was with his goal scoring exploits. He became the archetype of the ultimate power forward and earned the nickname 'Bam-Bam Cam'. Cam became the blueprint general managers looked for in the drafts, representing a combination of toughness and talent. They would say that they needed to find a "Cam Neely" type. Neely's intense efforts to come back time and again from his devastating injuries were recognized with his winning of the Masterton Trophy after the 1993–94 season. In '96, A degenerative hip condition forced Neely into retirement. His #8 jersey has been retired by the Bruins, making him the tenth player to have a number retired by the team.
If that wasn't enough to endear him to you, off the ice, Neely overcame deep personal family tragedies, with both his parents dying of cancer. This of course has made him very aware of those whose circumstances are less fortunate than his own. Today, Neely remains active in the Cam Neely Foundation run in conjunction with the New England Medical Center, where patients and their families avail themselves of accommodation at the "Neely House" while undergoing cancer treatments.
In June, 2010, Cam was named team President of the Boston Bruins.
Personally speaking (as a Pittsburgh loyalist), I always fell back on Boston sports because the similarities in the fans, work ethic, and pride in their local sports. Historically speaking, there is nothing better to read about than Boston and Pittsburgh sports. I have no qualms' saying that I love both cities. Although Pats/Steelers games fill me full of spiteful, intense rage, I always love a Bruins/Pens matchup. It was great seeing the two talented teams go head to head, and still is. I might add that both franchises were in a legal battle in 1980 over the usage of the Black and Gold colors (a whole other story…).
On May 11, 1991, during Game 3 of the 1991 Prince of Wales Conference Finals, Neely was checked by Ulf Samuelsson, and injured on the play, and was hit again to the knee in game 6…a blatant "cheap" hit by Samuelsson. Pens fan's saw Samuelsson hand out many of these hits, but this one was different, considering who he had taken the shot at, and the circumstances of Game 3. Compounding the situation was the fact that Neely developed myositis ossificans in the injured area. The injury kept Neely out of all but 22 games of the next two seasons, and he would never play more than 49 games again due to the incredible pain.
That being said…Cam, I'm a big fan, and I'm sorry. Hockey Gods, please accept this peace offering.
* This design is printed on Anvil ring spun cotton tees. These tees are incredibly soft, comfortable, and flexible. They have a sliming cut, but not enough that it throws off the sizing. Bottom line, these tees will be among your go-to favorite tees.
For more detailed information, including sizing, check them out at Anvils website:
http://www.anvilknitwear.com/Product-Catalogs/Tees/980
Cam Neely Tribute tee by Backpage Press
$

18.00 Tweet
---
---
Availability
SMALL

100%

MEDIUM

90%

LARGE

90%

XL

90%

2XL

90%

3XL

90%

4XL

100%